Our Story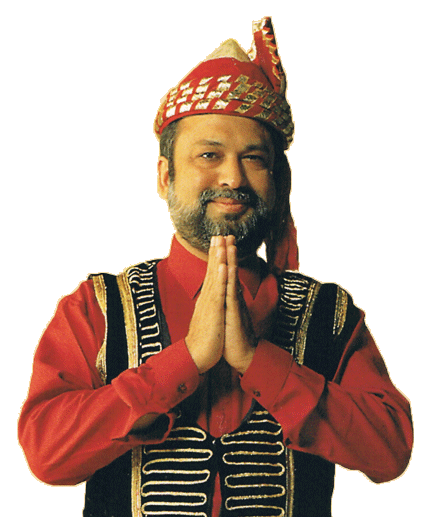 As you walk into any Taj Mahal restaurant, you are most probably going to spot a certain man who, with a lot of poise manages the hustle and bustle in this place. He greets the customers and does his best to make sure that each and everyone of them gets the best service, sometimes to the point where he himself carries a curry from the kitchen to the table. What's so special about this man? Well, this man is the President of the Taj Mahal chain of restaurants in Hokkaido, Japan, Mr Daniel Mansukhani, who is always very much involved in the daily activities of all his restaurants. This personal touch is a very admirable virtue that not every successful business man has. Let us go on a journey now to find out how one man's passion has introduced a fine dining Indian cuisine and established several restaurants in a foreign country which he now calls home.
Mr Daniel Mansukhani was born in a beautiful Rajasthani palace in the pink city of Jaipur in 1949 and was brought up in Mumbai, India. As a young man, he was mainly active in his business in the fashion industry which earned him a lot of textile and trading experience. He loves India and is deeply rooted in his culture but he absolutely loves to travel and learn a lot about the diverse culture of different foreign countries. Fortunately, his work required him to travel a lot. It was in 1972 that Mr Mansukhani visited Sapporo and had the chance to watch the Winter Olympics being held there. In a short period of time, he quickly grew fond of this city which was famous for their beer, ramen and snow festivals. It seems like he was destined to fall in love with Japan. However, the pursuit for his fashion business led him to be based in Germany for the following four years from 1974-1978.
In 1978, he was somehow drawn back to Japan where he continued his fashion business in Tokyo. After about three years, he decided to move his family and business to Sapporo, where his life and business continued to flourish. To him, Sapporo is a place where you can find the best of Japan in terms of the standard of life, the culture, the beauty of the mountains, seas and much much more. With his keen business eye, he did observe that this amazing city had only very few foreign restaurants and thanks to his love for the Indian culture and cuisine, he decided to open the very first Taj Mahal restaurant in 1982. At that time, the restaurant was merely a side business. There he was, passionate and ready to take up a major challenge in Sapporo, having to introduce a new cuisine which was completely foreign to the locals in the area. He hired the best chefs from India and managed to alter the cuisine in such a way that it would blend well to the taste of the Japanese tongue. It proved to be a big success which led him to concentrate wholly on the culinary industry. He then gave up his work in the fashion line and made the restaurant his main business.
Over 30 years have gone by and the Taj Mahal Group of restaurants has expanded and now caters to a wide group of customers. The Taj Mahal Group now has well-established restaurants in Sapporo & Niseko, Japan. Taj Mahal also participates actively in different events and festivals all over Sapporo. When you go to the Sapporo Snow Festival or Sapporo Rock Festival among the many events that the city holds, you will probably see the colourful Taj Curry Van selling warm curries and nans. Taj Mahal has had the honour of catering to the Japanese Defence Forces as well as many dignitaries including the Prime Minister of India, Ambassador of India to Japan and the Prince of Kuwait, just to name a few. Taj Mahal has also participated in many food festivals some of which they helped organize in collaboration with the Indian Tourist Office and the Indian Embassy in Japan. These achievements did not happen overnight. Many ideas were incorporated to the plans of Taj Mahal Group in order to satisfy their customers. From hiring chefs as well as staff straight from India to getting the choicest ingredients from Japan and all the way from India, the main goal of Taj Mahal is to offer the best Indian cuisine in Japan with excellent quality and service. Taj Mahal is very famous for their nans and curries. What's the secret to their amazing curries? Freshly cooked daily with the highest quality of spices and a lot of passion from all the cooks at the restaurant.
One admirable thing Mr Mansukhani had in mind from the beginning was how he wanted to make his restaurant a dining place for people with different taste buds, specific preferences, as well as for people of all ages including children. Taj Mahal has halal dishes, vegetarian dishes as well as kids' set complete with cute Indian-themed toys. Their dishes also range in spice level from mild up to very very hot. Whether you are an Indian, a Japanese, a foreigner craving for rich Indian curries, a college student looking for discounted meals, or simply a foodie on a gastronomical adventure, there is something available for you at Taj Mahal.
The Taj Mahal Group has flourished and will continue to do so because of one man's passion and the continued support of their valuable guests. According to Mr Daniel Mansukhani, in order to achieve success, you need passion and be willing to work hard to pursue your dreams. So, the next time you are drawn to the aroma from the curry-scented kitchen at Taj Mahal, rest assured that you will be in for a treat. From the moment you walk in, you will be teleported to a whole new world where the taste of India and the Eastern culture is very prominent. The sizzling sounds of Bollywood music, the sultry moves of belly dancers, the gorgeous decor of the interior, the small boutique selling authentic Indian attire along with fine accessories and last but not the least, exquisite food served at your table which you can enjoy at your own pace with your loved ones.